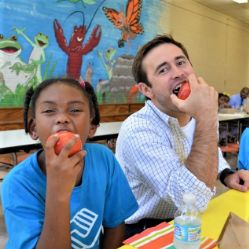 Every day stories unfold that show our staff, families and Club kids the most important role of the Boys & Girls Club: to provide our kids with the opportunity to belong, to succeed, to serve their communities and to share their voice with the world. Club kids have new experiences every day that give them hope. That's why 54% of Boys & Girls Club alumni surveyed said the Club actually saved their life.
A Boys & Girls Club provides:
A safe place to learn and grow
Ongoing relationships with caring, adult professionals
Life-enhancing programs and character development experiences
Hope and opportunity
Formula for impact

Character & Good Citizenship
Developing America's next generation of world changers starts today. Our country's future depends on responsible, engaged citizens and innovative, resilient leaders. Helping youth acquire the skills needed to participate in the democratic process is the main thrust of our programs. Through our programming, Club members develop leadership skills, contribute to the Clubs and their community and improve decision-making and planning skills, all while celebrating our national heritage.
Healthy Lifestyles
Healthy minds need the support of healthy bodies. A future generation of active citizens begins by building healthy habits in our kids. Club programs develop daily fitness habits, offer nutrition education programs, encourage a positive use of leisure time, strengthen social and interpersonal skills and help youth members understand the importance of healthy relationships. They also reduce stress and foster a general appreciation for the environment.
Lowery Elementary School
Boys & Girls Club at Lowery Elementary is a pilot program targeting 30 to 45 (3rd grade) students.  Due to school regulations, only students who attend the Lowery Elementary School are eligible to join Boys & Girls Club.
Typical Day
3:30  Snack Provided
3:45  PowerHour, Homework Assistance
4:30  Curriculum-drive Programs
5:30  Dismissal