Great Kids. Great Future. The Campaign for Boys & Girls Club

Boys & Girls Club of Greater Baton Rouge has embarked on a project with will transform our organization and increase our services to youth and teens who need us the most.   The Club is planning to build a 32,000 square foot Boys & Girls Club on the site of the old Howell Park Golf Course (north Baton Rouge).  
We have begun our "Great Futures" Campaign with the goal to raise $6,000,000 for construction and furnishings and $4,000,000 for the endowment.  As of July 8, 2019 the Club has secured more than $2.4 million with a goal of another $2.5 million by December 2019.  The Club is applying for New Market Tax Credits ($2 million).
The Great Kids. Great Futures. Campaign is an unprecedented public-private partnership between the BGC and the Recreation and Park Commission for the Parish of East Baton Rouge ("BREC"). Through a Cooperative Endeavor Agreement signed in September of 2018, the partnership will establish the first-ever youth center, or "Clubhouse", in the BGC's more than 35-year history in Greater Baton Rouge. The 32,000-sf facility will be featured within Howell Community Park, a shuttered municipal golf course (flooded in 2016), currently being repurposed into a true community venue. The redesigned park will ultimately include a gym, pool, and rec center which, along with the Clubhouse, will be cooperatively managed by BREC and BGC to provide a safe environment, staffed with caring and professional adults and offering proven youth development programs.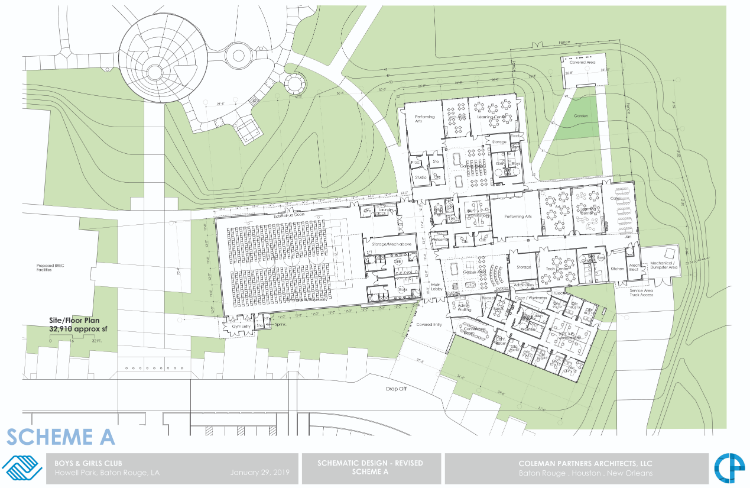 The Boys & Girls Club Clubhouse will be significant.  First, it will double our club member capacity and will be easily accessible to our target youth.  It will be located at BREC's Howell Park and will be a highly visible statement of the community's interest and support of North Baton Rouge - and the 70805 zip code in particular.  Our cooperative endeavor agreement with BREC allows us to use BREC infrastructure and provides us with access to swimming pool, playgrounds and ball fields without cost to the Club.  Therefore, our capital campaign funds will be dedicated exclusively to making the Clubhouse state of the art.  Additionally, we are coordinating our project with BREC's capital improvements at Howell Park to leverage the availability of New Markets Tax Credits.
Baton Rouge is the largest metropolitan area in the US without a dedicated freestanding Boys & Girls Club facility.  Nevertheless, the Baton Rouge Boys & Girls Club is among the highest rated clubs in the nation.  We currently operate as school-based clubs providing after-school activities.  A few of our clubs are located in BREC facilities.  While we have made the most of our situation, we are limited in the activities we can sponsor, and the number of club members we can reach.  Also, because we are primarily school-based, we have been virtually invisible to the Baton Rouge public even though we are part of the largest national youth service organization.  All of this will change for the better.
For the benefit of the kids, we provide a fun, safe place, and we emphasize three areas of personal development:  academic achievement, healthy lifestyles, and citizenship and character. We track metrics to measure our success in all of these areas.