Celebrate Pat's 30 Years of Service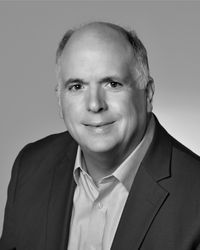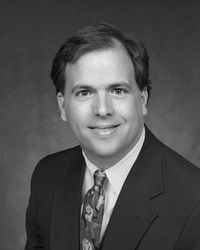 Pat Van Burkleo began his 30-year tenure with the Boys & Girls Club by responding to a newspaper ad for the Executive Director's position for the Boys Club of Greater Baton Rouge.  Little did he know that it would lead to a 30-year career decision.  Just the third professional leader of the Boys & Girls Clubs of Greater Baton Rouge, Van Burkleo's leadership has helped the Club grow to become the premier youth service organization in our community.
A native of McAllen, Texas, Van Burkleo graduated from the University of North Texas in Journalism/Public Relations.  He worked as the Deputy Press Secretary for the Bill Clement for Governor Campaign and then communications officer with the Texas Economic Development office.  In 1987, he became the first full time administrator of the I Have A Dream Foundation in Dallas.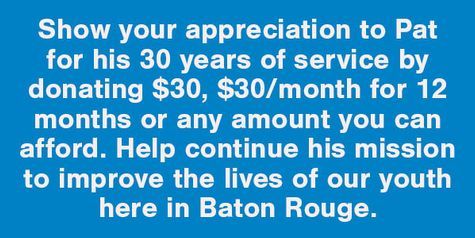 x
On August 1, 1990, Van Burkleo started his first day at the Boys Club of Greater Baton Rouge.  The budget was less than $130,000, with one small program site on Winbourne Avenue serving less than 100 children a year.  Shortly after his arrival, he received a State program audit showing that the Club owed the State about $30,000.  By the end of that year, the state debt was paid off, the name changed to reflect serving both boys and girls and there was actually cash in the bank.
Van Burkleo was an early trailblazer opening Clubs in public schools.  In the early 1990s, few Boys & Girls Clubs were housed in public schools.  Today it is the fastest growing segment for opening new Clubs across the country.
He also brought Youth Legislature, Be Safe Be Smart, AmeriCorps, and Youth Volunteer Corps into the Club's operations. 
He has received numerous awards and accolades including the 2007 John W. Barton, Sr. Excellence In Nonprofit Management Award and the 2012 Boys & Girls Clubs of America National Executive of the Year award.  He is a 2017 graduate of the Harvard Business School Leadership Summit.  He is also a 2008 graduate of the University of Michigan/Boys & Girls Clubs' Advance Leadership Program and their 2010  Mastery Level Leadership Learning Program. 

He has done so much for our youth and we want to thank him for all of his hard work and progress that he has done for the Boys & Girls Club in Baton Rouge. 
---
Click here to view the President and CEO of the Boys & Girls Clubs of America, Jim Clark's, full message to Pat Van Burkleo.
---