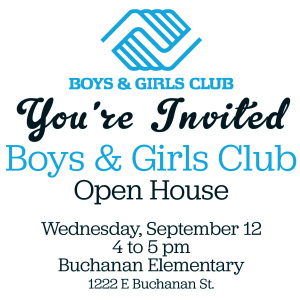 You are invited!
We always have our doors open to help the kids in Baton Rouge who need us most. On Wednesday, September 12, we are thrilled to have you as our guests so that you can open those doors and experience the Club for yourself!
What happens @ Open House?
Mix and mingle with the children we serve (i.e. Club members), staff, instructors, board members, and volunteers.
Chat with a Club member. What brought them to the Club and how has the Club made a positive impact on their future?
Get to know our staff and instructors, and see the passion behind the movement. 36 years strong!
Sit down with a volunteer to understand what it means to make a difference. To make a promise to a child who needs you!
Location Details
Buchanan Elementary
1222 E Buchanan St.
Baton Rouge, LA 70802
Click here for directions