21st Century Community Learning Center Grant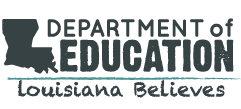 Boys & Girls Club of Greater Baton Rouge is pleased to give notice to the community of the submittal of a 21st Century Community School proposal.  The proposal was submitted to the Department of Education on May 17, 2019, and is currently under review.  
If you have any questions, please contact Pat R. Van Burkleo, President/CEO at 225.383.3928.
To learn more about this grant opportunity, please visit www.louisianabelieves.com
To view our submitted grant proposal