Steak & Stake - The Club's Largest Special Event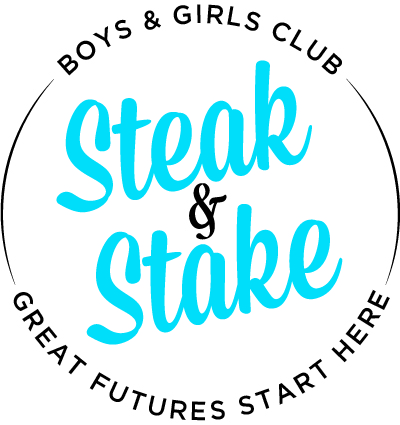 STEAK & STAKE is the Boys & Girls Club's largest special event. Steak & Stake is an evening set aside annually to celebrate and recognize the Club's corporate donors. Money raised through this corporate campaign supports programs for school-age youth which focus on academics, health, and character.
DATE: Thursday, October 18, 2018
PLACE: The Renaissance Hotel 
TIME: Pre-event Cocktail Party at 5:00 p.m.
           Dinner/Event from 6:00-8:00 p.m.
SPONSORSHIP LEVELS:
MISSION SPONSOR:  $10,000 corporate contributions supporting the mission of Boys & Girls Club – to enable all young people, especially those who need us most, to reach their full potential as productive, caring, responsible citizens. (Includes two tables at Steak & Stake and other recognition.)
VISION SPONSOR:  $6,000 to support the Club's vision of the for each member– that each young person that walks through the doors of the Club graduates from high school with a plan for their future ready to be contributing members of their community. (Includes two tables at Steak & Stake and other recognition.)
IMPACT SPONSOR:  $4,000 to support the Club's outcome-driven program plan to increase academic success, improve healthy lifestyles and ensure good character and citizenship of each Club member. (Includes one table at Steak & Stake and other recognition.)
MEMBERSHIP SPONSOR:  $2,000 to underwrite the cost for one child in the Club's after school and summer program for one year. (Includes one table at Steak & Stake and other recognition.)
Click here to download a sponsorship overview form
Interested in becoming a Steak & Stake Sponsor? Contact Heather Otten at 225-383-3928 or heather@brclubs.org