Youth Legislature is a middle school program that introduces students to the legislative process. For 35 years, the program has promoted youth leadership, cooperation and teamwork among peers and has given students the confidence they need to go on to participate in leadership roles in high school and in their community.
Students who participate in Youth Legislature receive classroom instruction and participate in a two-day mock legislative session at the Old State Capitol. Students elect a Governor and House and Senate officers. They also sponsor, debate, pass and fail bills, which they have drafted. They lead and serve on legislative committees and speak publicly before an audience.
Currently, more than 45 schools from 13 parishes participate in Youth Legislature. More than 1,800 students experience the mock legislative process over a period of eight weeks.
For additional information and sponsorship opportunities, contact Paula Braud, Program Director/Youth Legislature at youthlegislature@yahoo.com.
Be sure to visit Youth Legislature's Facebook Page to keep up to date on everything going on! You can also find us on Twitter and Instagram! 
Session 1 Feb 10 & 11
Episcopal, Runnels, St. Bernard, St. Francis Xavier, Westdale
Photos: https://paulajobraud.zenfolio.com/p262421425
Session 2 Feb 12 & 13
Catholic High of Pointe Coupee, Episcopal of Acadiana, Iberville MSA-West, McKinley Middle, Plaquemine High, St. Thomas More, Woodlawn
Photos:   https://paulajobraud.zenfolio.com/p502916533
Session 3 Feb 17 & 18
Our Lady of Mercy, The Dunham School, St. Aloysius
Photos: https://paulajobraud.zenfolio.com/p222351572
Session 4 Feb 19 & 20
Academy of the Sacred Heart, Berchmans Academy, The Brighton School, Central, Cope, Galvez, Gonzales, St. Amant, STEM Magnet Academy
Photos:   https://paulajobraud.zenfolio.com/p274836524
Session 5 March 2 & 3
Elm Grove, Most Blessed Sacrament, Prairieville Middle, St. Jude the Apostle, St. Theresa of Avila
Photos: https://paulajobraud.zenfolio.com/p23760794
Session 6  March 4 & 5
Glasgow, Sacred Heart, St. Alphonsus, St. Genevieve, St. Jean Vianney, Trinity Episcopal
Photos:   https://paulajobraud.zenfolio.com/p318548343
Session 7 March 9 & 10
Cornerstone, Holy Family, St. George, St. John, University View
Photos:  https://paulajobraud.zenfolio.com/p105552716
Session 8 March 11 & 12
Parkview Baptist, Port Allen, St. Martin's Episcopal, Scotlandville, West Feliciana Middle
Photos: https://paulajobraud.zenfolio.com/p26389394
Youth Legislature 2020 Sessions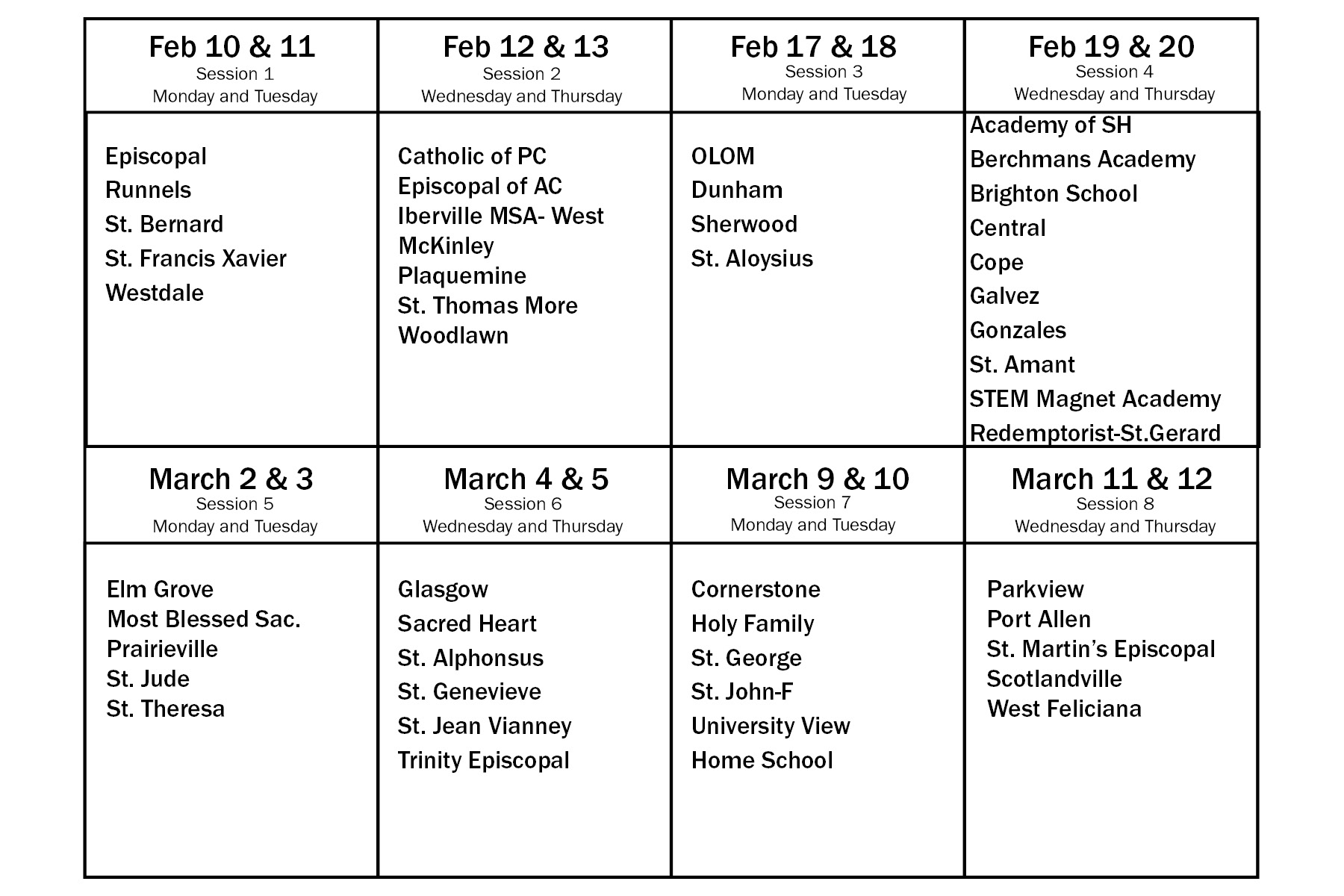 Your donation is double thanks to a matching challenge grant by Entergy Louisiana.  Entergy challenge grant will match your donation dollar to dollar (up to $5,000).  We deeply appreciate Entergy and your support of the Boys & Girls Club Youth Legislature program.