Our Outcomes
All it takes is one visit to the Club to see the smiling faces of our members and know that it is working.  Kids vote with their feet.  Every day our programs are filled with children and teens who show up because of meaningful relationships with caring staff and programs that are engaging and fun.
The Club also tracks the following indicators of success, with consistent results: 
98% of Club members have on-time grade promotion (the number one indicator of graduating high school on time)

Club members miss an average of 3.7 days of school, far fewer than their peers at the same school

Our summer enrichment program showed a three month growth in reading levels for our third grade members based on a pre and post national norms reading test.
Our Impact
With a focus on "Great Futures," the Boys & Girls Club provides world-class experiences that ensure success is within reach for every young person who walks through our doors. We empower all members to graduate from high school with a plan for the future, demonstrate good character and citizenship, and live healthy lifestyles.

Our "Formula for Impact" describes how each year we plan to increase our impact—exponentially—on the young people of our community. The formula serves as a roadmap as we remain committed to our members and encourage great futures.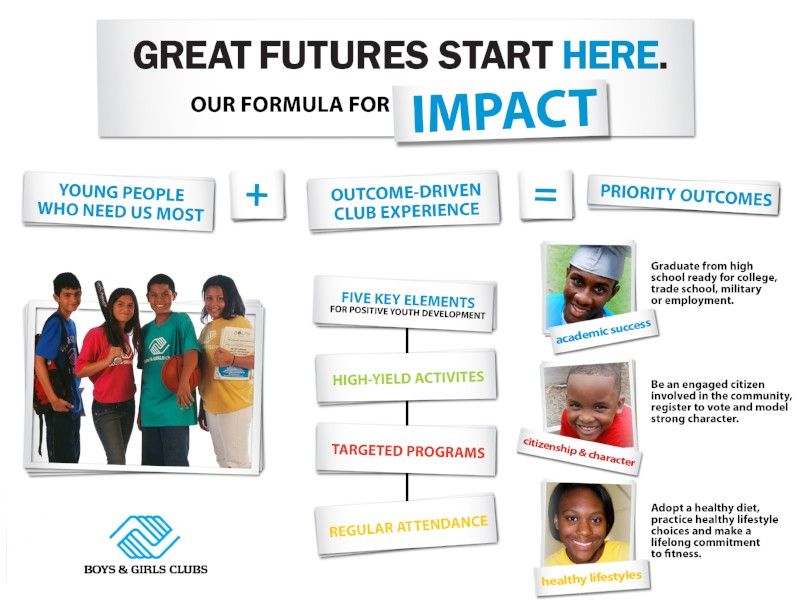 Where do your dollars go?
Since 1981, Boys & Girls Club has been providing a safe place to grow and learn for the youth in Baton Rouge who need it the most.
Today, the Club's after-school and summer enrichment programs help more than 1,200 Club members each year to overcome obstacles and achieve great futures. These programs have proven outcomes in academics, healthy lifestyles, character and citizenship. The Club serves an additional 4,500 youth through its violence prevention and youth legislature programs in Baton Rouge and 11 surrounding parishes.
When you give to Boys & Girls Club, you are making a direct impact on the lives of young people in our community.
$1,000 funds a child's participation in the program for half a year. This means that child will have a safe place to go after school and in the summer – a "second home" with caring adults that know them by name, help them with homework, listen to them and mentor them.
After-school is a time of discovery – about STEM, art, music, chess, even ukuleles! And about their futures. Club members go on college visits, hear professional speakers and are exposed to as many careers as possible during their time at the Club so they can become responsible, successful adults that give back to our community.
$500 covers transportation for one site for one semester. At a majority of our sites, every day after the Club, Members get on a bus and go home. The school system does not cover this cost. Boys & Girls Club pays for this transportation, and it makes a big difference for our families.
$250 funds program supplies for one site for one month. This includes art supplies, sports equipment, STEM curriculum, party supplies – and after-school snack (which is actually dinner for many Club kids).
$100 funds school & program supplies for one child for one year – backpack, notebooks, markers, calculator, compass, pencils, crayons. But of course our staff is the heart of our program. Boys & Girls Club is a place where members build strong relationships with caring adults who know them by name, build them up and help them envision a great future!